Jeff Bernat is the founder and president of Dynamic Products, Inc. (DPI). Jeff is a prolific inventor with a eye toward devices that are fun, provide comfort or solve specific problems. The mission of DPI is to 'provide a quality product to make life a little more comfortable and enjoyable, by creating products to enhance experiences in every-day events.'  Jeff is a great example of our 'solo-inventor' clients who capitalize on their ingenuity and transform ideas into real, marketable products and/or licensing opportunities.  We have worked with Jeff since 2009 to secure patents on several of his ideas:
The Dynamic Hammock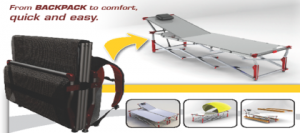 Our first project with Jeff was securing rights to a collapsible hammock structure that could be worn as a backpack for easy transport, dubbed the Dynamic Hammock.  The hammock can be extended for use or compacted for travel, capable of use with a variety of attachments and can even be made to float!  A unique cinching system allows the hammock to be deployed and stabilized (ready to use) within seconds.  The Dynamic Hammock is now protected by US Patent No. 8,745,782.
Representative claim:
A collapsible, self-supporting chaise longue, comprising:
a reversibly extensible frame system capable of supporting a first substantially planar support surface, said first substantially planar support surface being capable of supporting a user's weight when said frame system is in an extended configuration;
wherein said first substantially planar support surface comprises a tensioning strap that is capable of concurrently providing structural integrity to said frame system and allowing a user-selected amount of tension to be applied to said first substantially planar support surface when said frame system is in an extended configuration;
wherein said tensioning strap traverses a plurality of leg members of said frame system at or near an upper portion of each of said leg members.
K-9 Kannon™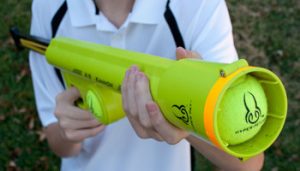 The K-9 Kannon was invented in part to help the elderly, or persons with shoulder injuries enjoy the simple experience of throwing a ball for their dog.  Anyone with a high-energy breed can appreciate that sometimes they just want to keep playing, even if your body has had enough.  The device incorporates a special-purpose barrel end that allows the ball to be picked up from the ground without subjecting your hand to a mouthful of dog slobber.  A band-propelled piston acts as a firing ram that projects the ball where ever you aim it.
Due to an upcoming deadline U&A was tasked with getting a patent application on file quickly and was successful in securing rights to the toy.  The K-9 Kannon is protected under US Patent No. 8,393,299.
Representative claim:
A gun capable of launching balls, comprising:
a gun barrel having a central bore therethrough, a firing ram within said barrel, a resilient elastic band connected at one end to said firing ram and at a different end to a portion of said barrel, wherein said firing ram is capable of being shifted from a pre-firing configuration to a resting configuration by a shift-urging force supplied by the resilient elastic band, and wherein said barrel has an end-tapered portion capable of holding balls of various size; and
a firing handle and a stabilization handle integral with said barrel, wherein said firing handle includes a triggering mechanism configured to both: 1) hold said firing ram in said pre-firing configuration when the firing ram is being urged toward said resting configuration by said force, and 2) release said firing ram from said pre-firing configuration when a trigger arm is shifted;
wherein a portion of said firing ram extends into said end-tapered portion of said barrel to cause a ball wedged therein to become dislodged and expelled from said barrel; and
wherein said force is dependent upon a user-selectable shifting distance of said firing ram from said resting configuration to said pre-firing configuration.
You can find the K-9 Kannon in retail stores such as Target, Menards, Bed Bath & Beyond, Cabela's and Amazon.com.
The Sandbox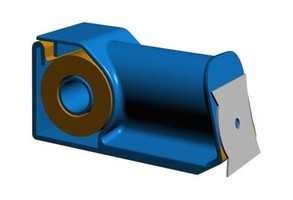 The Sandbox is a multi-function sanding and scraping tool.  The hand-sized housing stores a roll of sandpaper that loops around the flat underside of the device for sanding a surface.  A multi-bladed scraper is disposed on the front of the device that can be used for scraping different kinds and shapes of surfaces.
The Sandbox is covered under US Patent No. 9,421,680.
Representative claim:
A multi-function worker's tool, comprising:
a chamber body for storing a supply of sandpaper;
a first surface extending from said chamber body that is configured to receive a length of said sandpaper; and
a second surface extending from said first surface having a fastening member configured to secure a blade member in a selectable orientation;
wherein said fastening member and said blade member are configured to cooperatively secure a second, different portion of said sandpaper to said second surface.